Winner: Cameron Champ
Around the wider world of golf: Minjee Lee came from seven shots back to win her first LPGA major, the Amundi Evian Championship; Stephen Dodd won the Senior Open Championship on the Champions Tour; Dylan Wu won the Price Cutter Charity Championship on the Korn Ferry Tour; Patrick Newcomb won the Bupa Championship on the PGA TOUR Latinoamérica; Lilia Vu won the Twin Bridges Championship on the Symetra Tour; Jiyai Shin won the JLPGA's Daito Kentaku Eheyanet Ladies; and Hanbyul Kim won the KPGA's Yamaha Honors K Open. [Thanks again, IC!]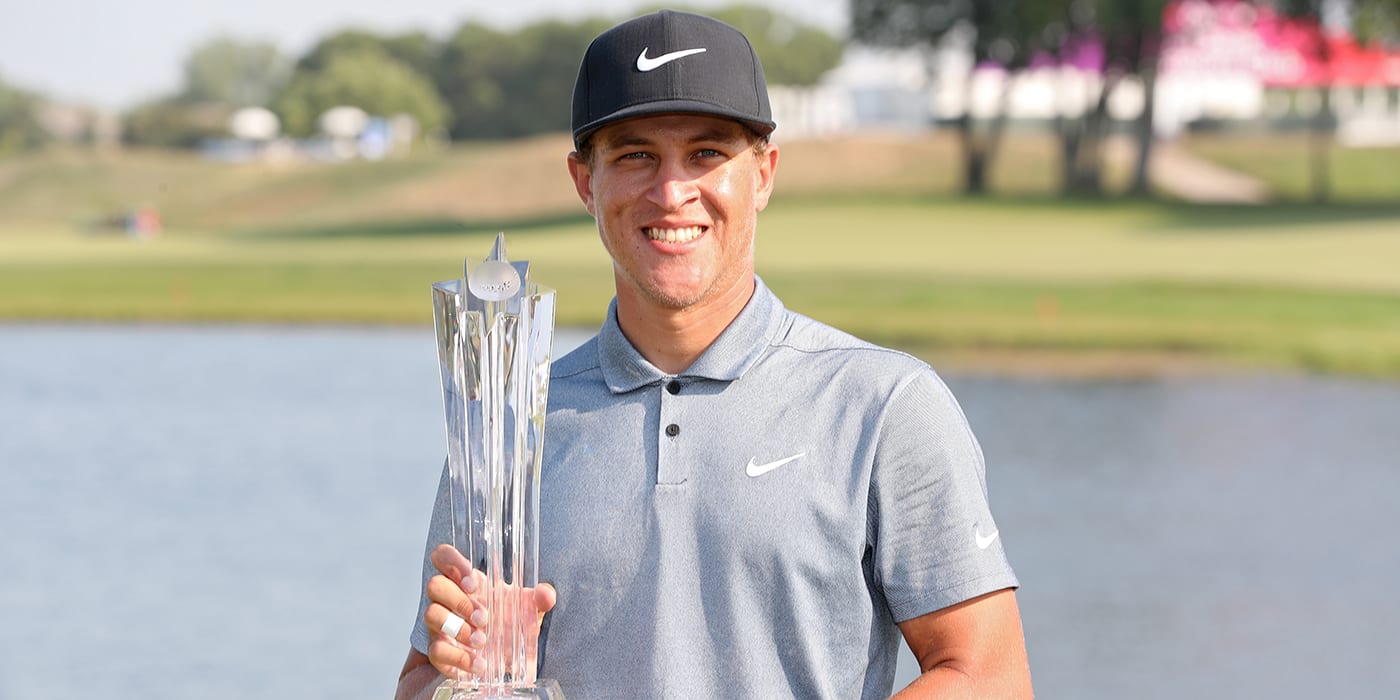 Six on one hand, a half dozen on the other; that describes my Twofer Tuesday picks. I had Louis Oosthuizen (T2) and Dustin Johnson (MC). I don't know what's up with DJ but King Louis continues to put himself in position. He's gonna break through soon, I think.

Top10s: 18 for 60 (14 Top5s, 4 other Top10)
Winners: 2 for 29 events
I don't know which was the bigger story -- Cameron Champ dealing with dehydration on Sunday or him taking driver off the 18th tee and almost hitting it off the course. The announcers seemed equally taken by both events.
The dehydration was certainly the bigger worry. With the heat index pushing triple digits, the last thing you want to see is a player on the verge of collapse. Fortunately he was able to get some water and a sports drink before it got too bad.
As for that drive... I know Cam said it was a safety play although it didn't look like one to me. But hey, what do I know? Cam only needed a bogey to win the 3M, and he only needed one good shot to the green to make that possible.
And he made a perfect shot, a wedge that basically left him a tap-in for par. So in the end, it really didn't matter.
For Cam this may have been a gamechanger. He's been struggling this year; his last seven events included four MCs, a WD, a T11 and now a win. He said he needed to be kinder to himself -- probably good advice for most of us, especially the overachievers among us -- and it seems to be just what he needed.
So who am I to argue? I'm going to be kind to him and give him a shiny new Limerick Summary!
On 18, when Cam pulled his drive,
They said, "There's no way he'll make five!"
But Cam wasn't fazed…
So announcers were dazed
When his wedge showed them how he'd survive.