The women won't get a Limerick Summary this week because -- as usual -- that will go to the WGC being played by the men. But the women definitely deserve some 'blog space' after such an awesome event.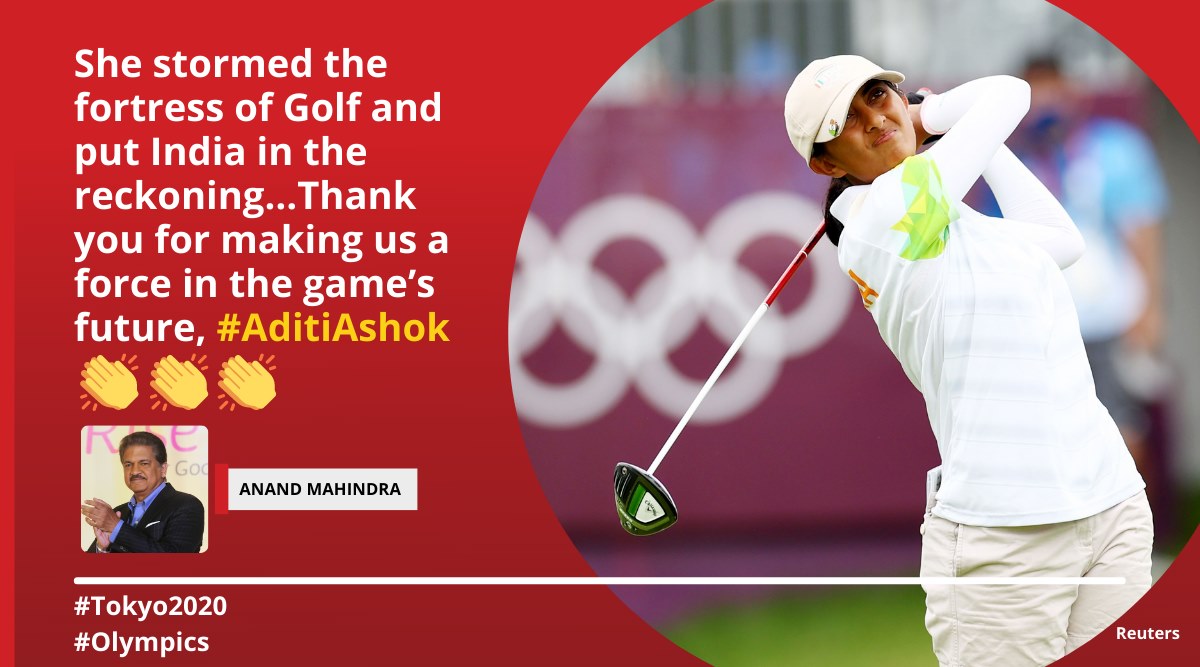 By now you all know who medaled:
Gold: Nelly Korda (USA)
Silver: Mone Inami (Japan)
Bronze: Lydia Ko (New Zealand)
Lydia and Inami tied for silver and needed one playoff hole to break the tie. The field had to dodge a tropical storm just to get the event completed. And yet this whole event was super-competitive and the results were in doubt until the last hole. It's hard to ask more than that for golf's second appearance as an Olympic event, isn't it?
While Nelly will understandably get more attention overall and Inami will probably get the most in Japan, it shouldn't be forgotten that Lydia is the only golfer, male or female, to have TWO Olympic medals in golf. That's impressive, especially considering what Lydia's game has been through in the years between Rio and Tokyo. Perhaps her place in modern golf now needs to be reevaluated.
And while we saw some really great performances from the various players, how can I not focus on Aditi Ashok? The photo above came from a collection of internet posts that indianexpress.com gathered together to show how much her performance affected the country of India.
Bear in mind that India has nearly 1.4 BILLION people but, according to this Wikipedia page:
India currently has 196 registered golf courses and around 50% of those registered courses are situated on military bases, which are only accessible to military. 35 additional courses are un-affiliated (approx 17 Pitch and Putt Courses). This leaves roughly 135 courses to cater for a civilian golf demand.
Imagine that! And now Aditi has been in two Olympics, placing 41st (at age 19!) and 4th. It's possible that she could have a similar effect to that of Se Ri Pak in South Korea.
How long will golf continue to be in the Olympics? The 2024 Paris games, the 2028 Los Angeles games and the 2032 Brisbane games have all named their golf venues so we can expect them for at least the next three Olympics.
And while there has been some debate concerning the format of Olympic golf, it's hard to see why the IGF would change what has been such a successful event. It seems to me that match play or team play, the two most commonly recommended changes, would only make sense if additional formats were added to the existing events. In that case, I can't see anything more than a two-day team event being added... and even that would take some serious planning since the Summer Games are only two weeks long.
In the meantime, I think the ladies have proven that golf belongs in the Olympic games. And with all the difficulties faced by the Tokyo games, I think they have a lot to be proud of. Congrats to all the women, medalist or not!