So much for "they look good on paper." No matter what the stats and rankings may say, Team Europe just made history with a back-to-back win at the Solheim Cup at Inverness.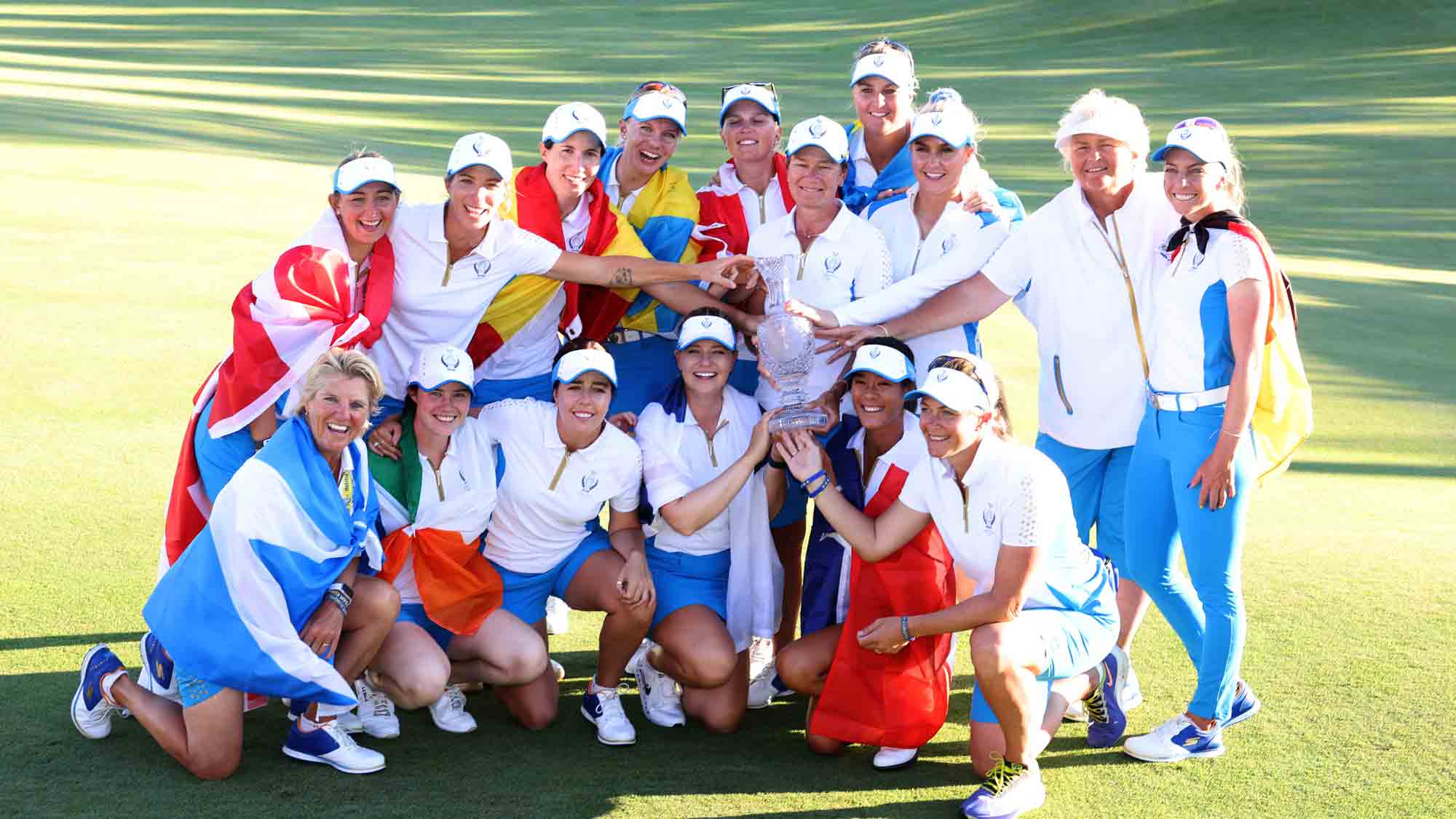 Team Europe took the Solheim Cup 15-13. That's not a crushing defeat-- after all, they only needed 14 points to retain the Cup and 14.5 points to outright win it again -- but that's not the point. Rather, it's a measure of just how the gap between American players and European players has narrowed since the Solheim Cup began in 1990.
But we also need to readjust our expectations for team events. The fact of the matter is that we just don't see what's right in front of our faces.
First of all we need to ignore the "better on paper" argument. All of our team play qualifications are based on stats and rankings created from the results of individual stroke play, and then we act so surprised when team match play events don't follow the same script. Not every stroke counts in match play, not every stroke counts the same, and two players posting a single score really changes things. Consequently, match play is a different mindset so we shouldn't be so surprised when these team match play events defy expectations based on individual stroke play results.
But I also know we're going to start hearing that old "Europe bonds better than the US" argument again... and I just want to say that's a lot of crap. I've been part of many teams of many types, and I know that bonding is a wonderful thing. Bonding increases the enjoyment a team shares and, if a couple of players don't want to work together, it can break down barriers between them so they might... but bonding doesn't make putts, people. It's not some magic spell that makes you able to perform miracles.
It wasn't bonding that made Matilda Castren capable of winning an LET event when that was the only way she could make the team, and it wasn't bonding that got her a Captain's pick or let her sink the winning putt. It was her own personal drive and talent.
The same goes for Leona Maguire. It wasn't bonding that got the first Irish Solheim player a Captain's pick, and it certainly wasn't bonding that made her go 4-0-1.
What made Team Europe so tough -- and Team USA so vulnerable -- is the same thing that plagues the Ryder Cup teams. Go back and watch the replays from the Solheim Cup and you'll see the key metric displayed onscreen with every putt to win or tie a hole. In a word...
Team USA didn't make par putts, Team Europe did. It's that simple.

Nobody made a lot of birdies at Inverness. It's not a course that gives up easy scores. But the reasons for those missed par putts were varied.
Sometimes it was just the pressure. That happens sometimes.
Sometimes it was the result of a bad shot to the green, whether it came from a shortsided short game shot or an approach shot that went wide of the mark. It's hard to keep making 20, 30, 40 footers for par when your opponent is inside 10 feet.
And sometimes it was all set up by a poor drive. It's hard to control the ball from some lies in the rough.
I'm not making excuses for the US team. I just want the US team to know what they need to improve on.
And I don't want this great achievement by the Euro team to get chalked up to magic. Give those girls the credit they deserve for great play!