Winner: Sam Burns
Around the wider world of golf: Danny Willett broke a two-year winless streak at the Alfred Dunhill Links Championship on the ET, and Maeve Danaher (with pro partner Michael Hoey) became the first woman to win the event; Celine Boutier won the ShopRite LPGA Classic; Sophia Schubert won the Carolina Golf Classic on the Symetra Tour; Blair Bursey won the Reliance Properties DCBank Open on the Mackenzie Tour; Maja Stark won the Estrella Damm Ladies Open on the LET; Chan Kim won the Vantelin Tokai Classic on the Japan Golf Tour; Hae-woo Ham won the Hyundai Marine and Marine Engineering KJ Choi Invitational on the KPGA; and Ga Eun Song became the first rookie to win on the KLPGA this year with her victory at the Hana Financial Group Championship. [Thanks, IC!]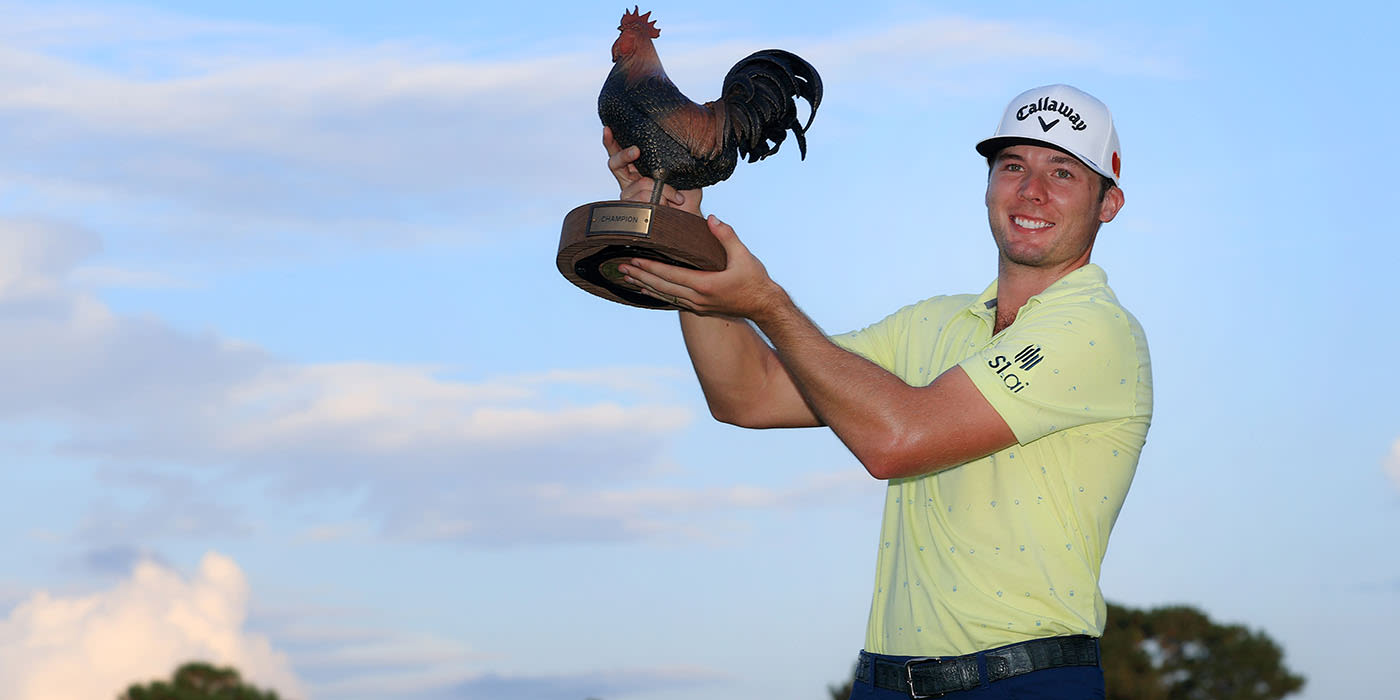 My Twofer Tuesday picks continue to struggle. I had Sergio Garcia (MC) and Will Zalatoris (T14). Sergio has an obvious excuse but Will's on a roller coaster -- outside the Top10 on Thursday, a course record put him in the lead on Friday, and then he vanished. Close again but no cigar.
Top10s: 0 for 4
Winners: 0 for 2
Like me, Sam Burns had been struggling some with his game, although he played well enough that Steve Stricker considered him for the Ryder Cup team. And with his first start of the season, his putter wasn't helping him at all. Over the four rounds his putting actually cost him two strokes to the field. But he was hitting the ball so well that he gained nearly 15 strokes against everybody else!
So much for the "drive for show, putt for dough" folks.
In the end -- on the back nine, that is -- Burns casually built a two-stroke lead that he carried to the 18th. An easy bogey gave him his second Tour win... as well as his second Limerick Summary.
Let me say just one thing more. I know that trophy isn't a chicken, okay? Reveille the Rooster is the brainchild of Sanderson Farms CEO Joe Sanderson and sculptor Malcolm DeMille. It's a life-size rooster made from six separately formed pieces of bronze which are assembled and then color-treated with heat, chemicals and wax. I get it.
But to my untrained eye, every time I see it I think, "Hey, a chicken." And chicken fit the limerick's flow better than rooster. Furthermore, I know that if I had managed to win this event and wanted to place the trophy where it would be seen by anybody who entered the house, my gang would not be thrilled to see a chicken (their eyes are as untrained as mine) in the middle of the main room. For those reasons I'm leaving the Limerick Summary as it is. Don't be offended, rooster lovers!
The chicken now roosts in Sam's house,
A witness he'll never renounce
To vict'ry, displayed
In a prominent way—
Which I hope is okay with his spouse.