Twofer Tuesday makes the long six-mile jaunt south of TPC Summerlin, remaining in America's most obvious substitute for South Korea (aka Vegas NV) for the CJ Cup.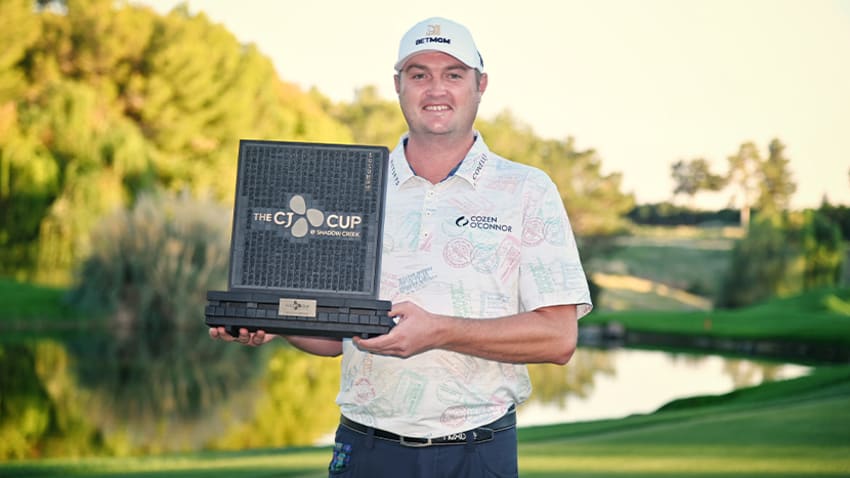 Pandemic travel has disrupted the Asian Swing of the PGA Tour for two seasons now, and Vegas once again stands in for South Korea. Last year it was Shadow Creek Golf Course; this year it's the Summit Club, a par-72 Tom Fazio design that stretches out to just over 7400 yards. For the event it's actually a great situation, since the short commute from the Shriners to the CJ Cup is attracting a large number of last week's field -- 48 players as of Monday.
That should make things interesting for defending champion Jason Kokrak, who got his first PGA Tour win at this event last season. Whether the new venue will help or hinder his defense is anyone's guess.
With such a strong field there are a lot of potential picks I can make and, despite my poor luck in Vegas last week, surely someone can step up and help my struggling record. So I'm going for big names this week... and in true Vegas fashion, I'm making my picks using unassailable logic.
In case you didn't know, that's Vegas slang for "I'm rolling the dice and praying real hard."
My first pick is Dustin Johnson. It's been a while since I picked him but after going 5-0-0 at the Ryder Cup and then grabbing a little down time to recharge, how can he do anything but post a great score this week?
My other pick is Justin Thomas and once again I have the most logical of reasons for picking him -- namely, Bones McKay is on his bag now. As we all know, JT and Phil's old caddie have jelled very well in the few events where they've worked together. And this is Vegas, baby -- we go big or we go home!
GC's live coverage starts Thursday at 5pm ET, giving us another week of prime time golf. Clearly Lady Luck will smile on me this week, as she wouldn't dare to deny both DJ and JT a chance at the gold ring.
Would she????