It's not listed on the PGA Tour schedule but you know all the guys are ready for it. It used to be called the PNC Father-Son but since the event (rightfully in my opinion) agreed that daughters should be allowed to play as well -- I don't think we've seen a Mother-Daughter pairing yet -- the name has been streamlined to the PNC Championship.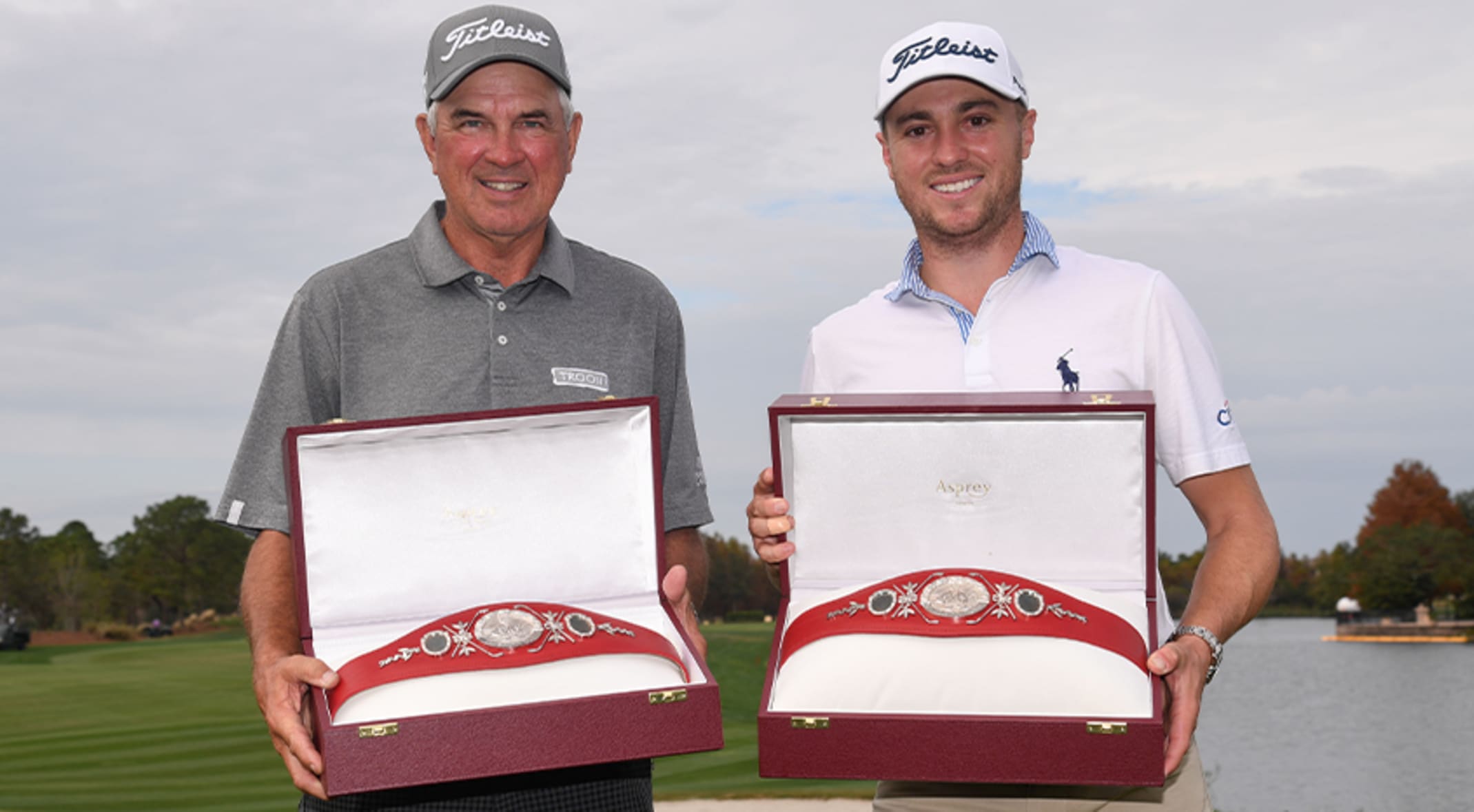 The event will once again be played (as it has since 2002) at the Ritz-Carlton Golf Club in Orlando FL. While it's listed as a par-72 course measuring 7100 yards, the fact is that there are different tees in play because the younger players -- and this year, perhaps Tiger -- simply can't play from the same set of tees as the adults. But however the officials figure out who plays which tee, they've done it well in the past so I see no reason that should change.
Tiger does add an element of interest to the event though. Will they put him on an adjusted tee to compensate for the severity of his leg injury, or will they just let Charlie take care of the tee shots? It does seem a bit unfair to Charlie if they decide on the latter!
There are 20 pairings, all standard father-son pairings except for Nelly Korda who's playing with her dad and Bubba Watson who's playing with his father-in-law. Justin and Mike Thomas are back to defend their 2020 win.
Justin Thomas & Mike Thomas (Defending champs)
Bubba Watson & Wayne Ball
David Duval & Brady Duval
Gary Player & Jordan Player
Henrik Stenson & Karl Stenson
Jim Furyk & Tanner Furyk
John Daly & Little John Daly
Lee Trevino & Daniel Trevino
Mark O'Meara & Shaun O'Meara
Matt Kuchar & Cameron Kuchar
Nelly Korda & Petr Korda
Nick Faldo & Matthew Faldo
Nick Price & Greg Price
Padraig Harrington & Paddy Harrington
Rich Beem & Michael Beem
Stewart Cink & Reagan Cink
Tom Lehman & Sean Lehman
Tom Watson & Michael Watson
Tiger Woods & Charlie Woods
Vijay Singh & Qass Singh
There are only two rounds, on Saturday and Sunday. Each day starts on GC then moves over to NBC, although there's a three-hour gap between the coverage on Saturday. GC's Saturday coverage runs 11am-noon ET then moves over to NBC at 3pm ET.
I know most of the excitement for this event concerns Tiger's first public return as a player since his accident, but this is always fun to watch because the kids get such a good chance to show off, just as Charlie did last year. We should expect more surprises this year.