Winner: Scottie Scheffler
Around the greater world of golf: Ryan Brehm needed a win to keep his Tour card and he won the Puerto Rico Open (the PGA Tour alternate field event) by six shots to get it; Jin Young Ko got her sixth win in ten starts at the HSBC Women's World Championship on the LPGA; Ashun Wu won the Magical Kenya Open on the DP World Tour; Oliver Hundebøll won the Mangaung Open on the Sunshine Tour; Retief Goosen won the Hoag Classic on the Champions Tour; Jarryd Felton won the TPS Sydney on the Australasian Tour; Kum-Kang Park won the Florida's Natural Charity Classic on the Epson Tour; Sihwan Kim won the International Series Thailand on the Asian Tour; and Wake Forest won the team event and Carolina Lopez-Chacarra won the individual title at the NCAA's Darius Rucker Intercollegiate.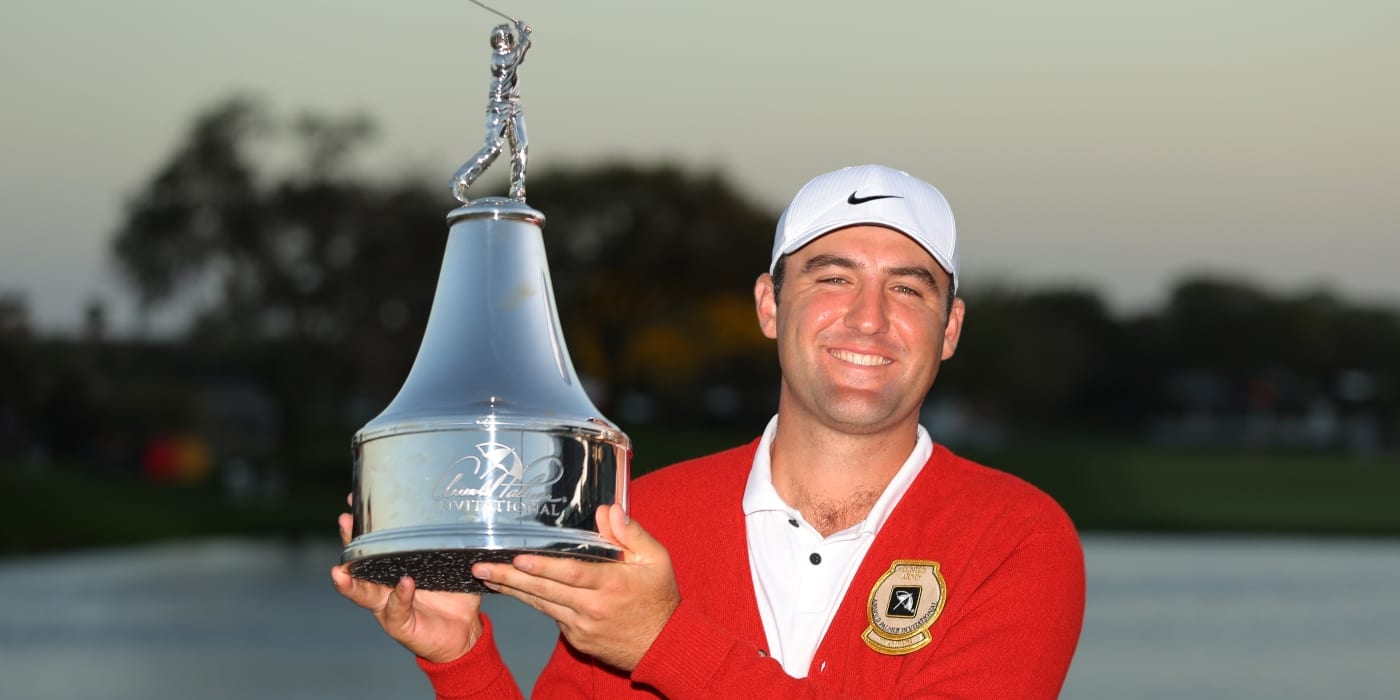 Not so bad for my Twofer Tuesday picks this week. My picks were Rory McIlroy (T13) and Matt Fitzpatrick (T9). Rory fell back on Sunday but Matt held on for a Top10.
Top10s: 10 for 38 (6 Top5, 4 Top10s)
Winners: 0 for 19
This week I'm adding a Top20 picks to my stats. I'll explain why in tomorrow's Twofer Tuesday post. For now I'll just say it won't change how I make picks.
Rory wasn't the only player who struggled on Sunday. The field's scoring average wasn't as bad as last year but 2021 was the only Sunday that was worse. And apparently the scoring for the week was the worst in 40 years. Earlier in the week the winning score looked to be around -10 but it finished at half that.
And Scottie Scheffler made that with an even par round on Sunday.
I won't go into much detail here because, if you saw the event, you know it was basically a few amazing shots interspersed between a lot of bogeys and worse. Bay Hill dried out under all the wind and made precision shotmaking more a matter of luck than skill. The men who still contended when they reached the 18th did so by pure mental toughness because it was the kind of golf that grinds your mind to mush.
Scottie's win was unexpected because he began the day 8 shots back. Just think -- all it took from him was an even-par round. That's a tough course!
This gives Scottie his second Tour win -- and second Limerick Summary -- in only three starts. I guess the floodgates may really be opening for him!
His second Tour win in three tries
Caught most of the field by surprise.
For Scottie to do it
At Bay Hill, where wind blew its
Worst, was a shock to those guys!