Winner: Jordan Spieth
Around the wider world of golf: Hyo Joo Kim won the LPGA's LOTTE Championship; Tyson Alexander won the Veritex Bank Championship on the Korn Ferry Tour; Sihwan Kim won the Asian Tour's Trust Golf Asian Mixed Stableford Challenge; Sang-Hyun Park won the KPGA's Dongbu Promy Open; Ji Young Park won the KLPGA'S MEDIHEAL Hangkook Ilbo Championship; Nozomi Uetake won the JLPGA's KKTCup Vantelin Ladies Open; and Kazuki Higa won the Kansai Open Golf Championship on the Japan Golf Tour. [Thanks, IC!]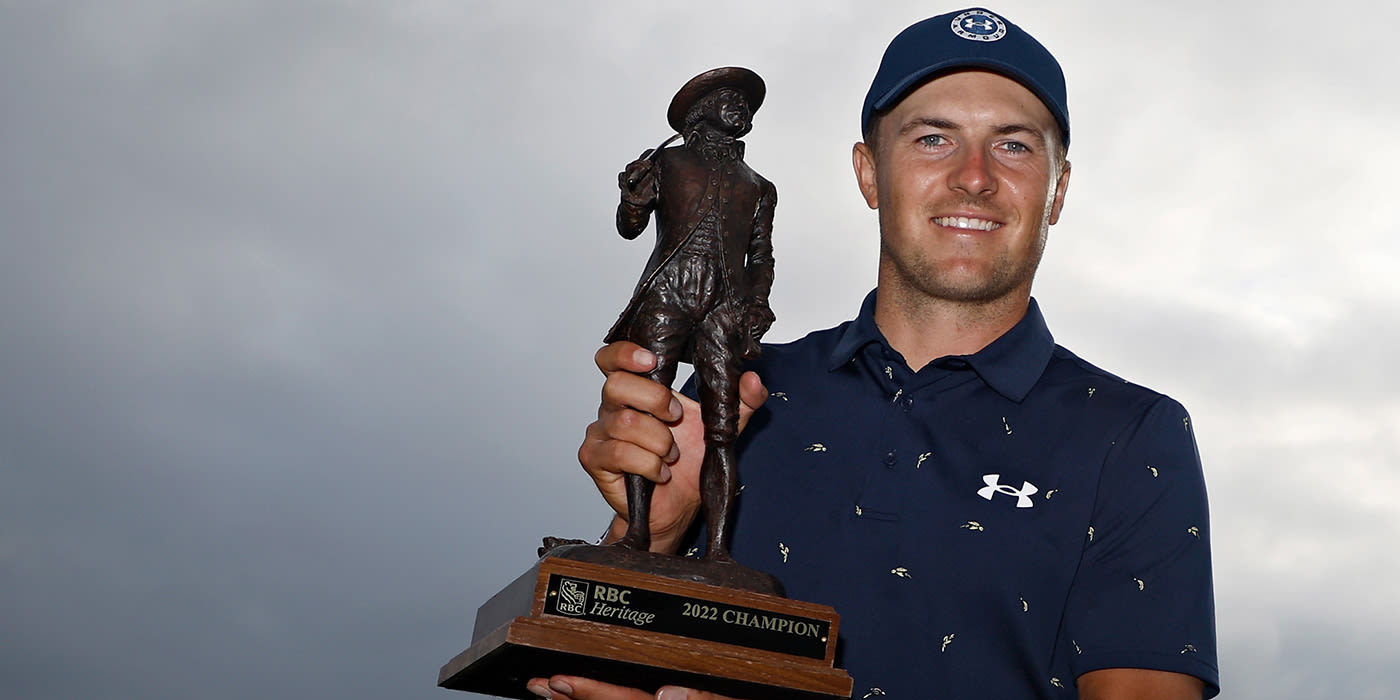 Not a bad week for my Twofer Tuesday picks. I had Webb Simpson (T59) and Matt Kuchar (T3). Webber had an off week but Kuch gave me a Top5.
Top10s: 14 for 52 (9 Top5, 5 Top10)
Winners: 1 for 25
Top20s: 24 for 52
When I saw (early in the day) that the final round odds on Jordan Spieth were +1800 I said to myself that, if we had PointsBet here in NC (it's not legal in our state), I might put a small bit on the Golden Boy myself. After all, with Jordan only 2 shots off the lead, +1800 seemed like really good odds.
As it turned out, I was right. And Jordan didn't even bring his putter with him this week! Despite struggling with even two-footers, Jordan managed to post the clubhouse lead at -13 and it held up until Patrick Cantlay tied him on the 18th to force a playoff.
Which didn't last very long, as it turned out. Both drove into the bunker fronting 18 -- Patrick plugged, Jordan didn't. And then Jordan hit one of those great bunker shots he's famous for winning events with, leaving himself a 7" tap-in that even he couldn't miss.
Jordan increasingly reminds me of the Energizer Bunny. It doesn't seem to matter what you throw at him; he just keeps on truckin' along, doing his thing. No putter? No problem, we'll just chip and pitch the ball in the hole this week. He keeps defying the odds.
That's why +1800 looked pretty good to me. Wish I could have put a couple of bucks on him!
In the meantime, Jordan picks up his 13th PGA Tour title... and his 13th Limerick Summary. Another great Easter for the Bunny! Wonder how he'll do at the Masters next Easter?
Two Easters now, we've seen him coming,
His battery endlessly humming.
Perhaps it sounds funny
But Spieth's like that Bunny—
He gives the whole field a sound drumming.