Winner: Xander Schauffele/Patrick Cantlay
Around the wider world of golf: A lot of golf this week! Nasa Hataoka ran away with the LPGA's DIO Implant LA Open; Pablo Larrazábal won the DP World Tour's ISPS Handa Championship in Spain; Scott Parel and Mardy Fish won the pro and celebrity titles at the Champions Tour's ClubCorp Classic; Dottie Ardina won the Epson Tour's Copper Rock Championship; Jaime López Rivarola won the PGA TOUR Latinoamérica's JHSF 67th Aberto do Brasil; Jay Mackenzie won the Australasian Tour's 2021 CKB WA PGA Championship; Jaco Ahlers won the Sunshine Tour's Stella Artois Players Championship; Yuto Katsuragawa won the JGTO's ISPS Handa Championship Japan; Sayaka Takahashi won the JLPGA's Fujisankei Ladies Classic; and Hae Ran Ryu won the KLPGA's Nexen Saint Nine Masters. [Thanks, IC!]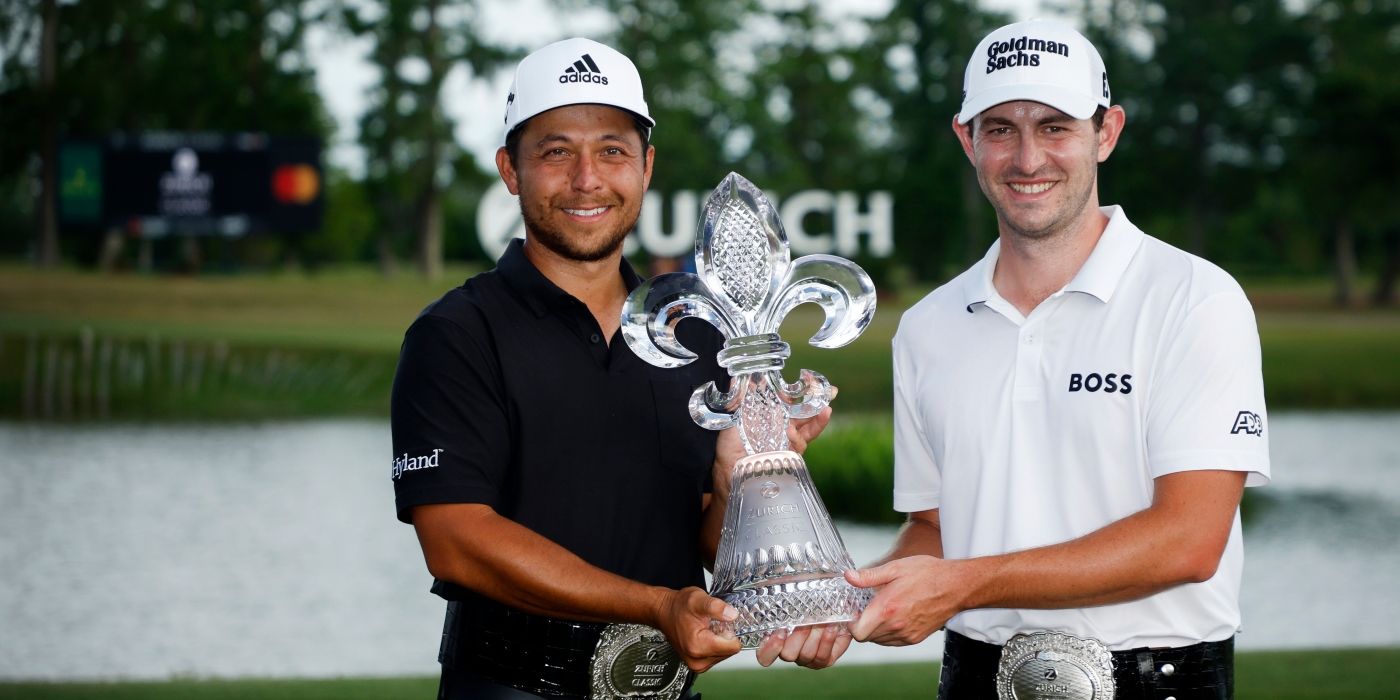 This is getting old. In two of the last three weeks my Twofer Tuesday picks haven't done as well as someone I said I liked but didn't choose. First Scottie Scheffler won the Masters, then the team of Will Zalatoris and Davis Riley finished T4 this week. I had Scottie Scheffler and Ryan Palmer (T18) and Marc Leishman and Cam Smith (T21). I clearly need to change my method of picking!
Top10s: 14 for 54 (9 Top5, 5 Top10)
Winners: 1 for 26
Top20s: 25 for 54
And somewhere in the midst of it all Xander Schauffele and Patrick Cantlay -- both struggling to close out tournaments lately -- ground the rest of the Zurich Classic field into a very fine powder and cast them into the swirling winds of TPC Louisiana. From their record-setting score of 59 in the best ball round Thursday they showed no mercy as the week ran on, becoming the first wire-to-wire winners of the team event as well.
I don't know if there's a record they didn't break at the Zurich. (Maybe the 36-hole scoring record. I didn't hear what that one was.) But I'm sure everyone else in the field is very clear on their stats!
This win came as no surprise of course. Patrick is the reigning FedExCup champion and Xander the reigning Olympic gold medalist, and both have been playing well despite the aforementioned problems closing tournaments. But to see them dominate the field in this way simply has to be disheartening to everybody else, as they know that these two are only going to gain confidence from this victory...
And perhaps use that confidence to go on a run of wins as the season wears on.
In many ways a single Limerick Summary seems inadequate in a team event when the result is this lopsided. But hey, sharing doesn't seem to be a problem for this team. Perhaps they'll take another trip together to relax and celebrate it as well!
From records set back in Round One
To records that got the job done,
Both Xander and Pat
Seem to think it's old hat
To crush rivals while just having fun.