Winner: Jon Rahm
Around the wider world of golf: Marina Alex won the Palos Verdes Championship on the LPGA; Adri Arnaus won the Catalunya Championship on the DP World Tour; Harrison Endycott won the Huntsville Championship on the Korn Ferry Tour; Steven Alker won the Insperity Invitational on the Champions Tour; Gabriella Then won the Garden City Charity Classic on the Epson Tour; José Toledo won the Diners Club Peru Open on the PGA TOUR Latinoamérica; A Lim Kim won the CreaS F&C KLPGA Championship on the KLPGA; Mao Saigo won the Panasonic Open Ladies Golf Tournament on the JLPGA; and Yuki Inamori won The Crowns on the Japan Golf Tour. [Thanks, IC!]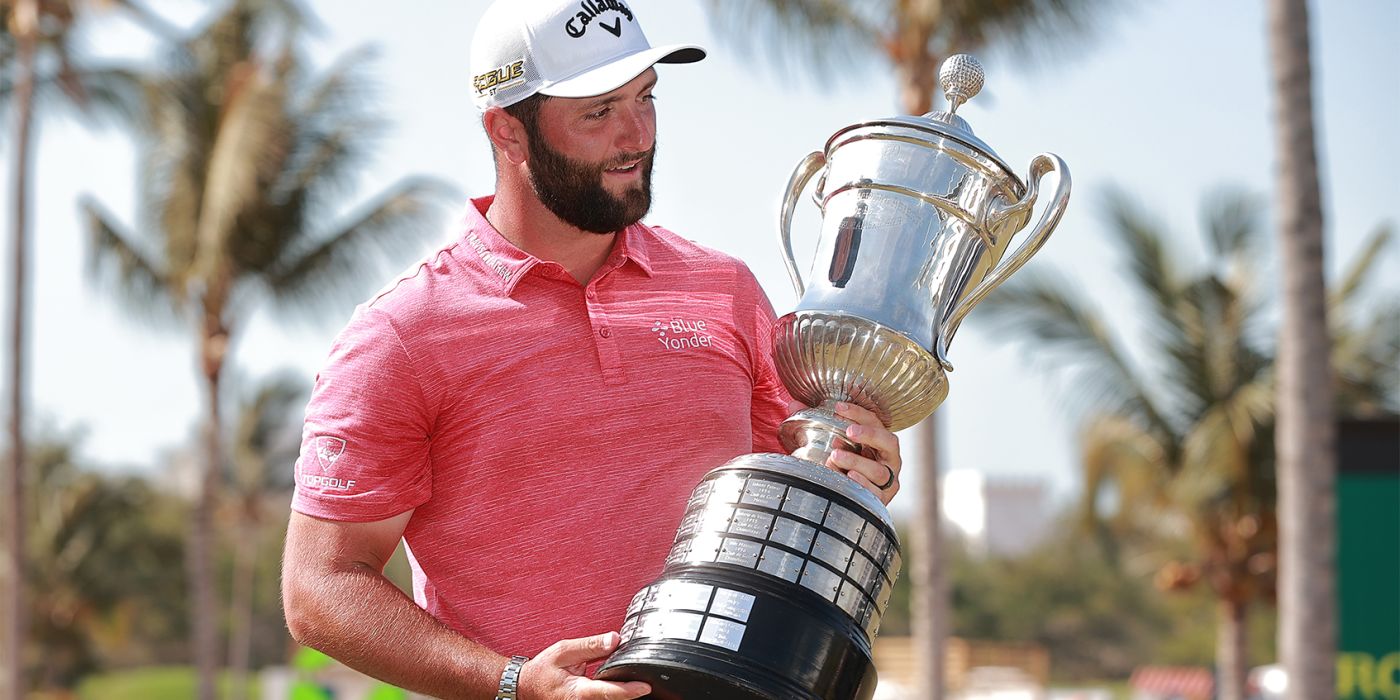 This is getting old. I had Kevin Na (T42) and Christiaan Bezuidenhout (DNP). It looks like Kevin took himself out by getting in that shouting match with Grayson Murray earlier in the week. Another week of bad picks!
Top10s: 14 for 56 (9 Top5, 5 Top10)
Winners: 1 for 27
Top20s: 25 for 56
He carried the pressure of expectations all week. Jon Rahm was tied for the lead after the first round, led by two after the second and third rounds, and finally won by a shot on Sunday.
Plenty of players made runs at him. Brandon Wu and Tony Finau both finished early and posted scores that were just a shot shy of Jon's winning -17, and Kurt Kitayama in the final group with him also made the runner-up squad.
It was a tough day for Jon. Once again he didn't have his best stuff and had to scramble his way around the course the whole time. I guess you could call it a mini-version of his season so far, as he has struggled to put four solid rounds together since he won the US Open last year. It's not as if he's played badly, but rather that he just hasn't been sharp around the greens.
And as the only player higher than Patrick Reed (#33) in the field, everybody just expected Jon -- the World #2 -- to get it done somewhat easily. But life rarely works out that way, does it?
Jon was met on the 18th by his young son and his wife, now expecting their second child. Referring to an old Spanish saying, Jon said children tend to bring gifts... and the unborn one had given him one Sunday. Let me be the first to add to those gifts with another Limerick Summary, his first of 2022.
His drought since the Open is done
So Jon shared the win with his son
And his wife, who's soon due
With the Rahm's number two,
Underneath the bright Mexican sun.