Winner: Max Homa
Around the wider world of golf: Thorbjørn Olesen went eagle-birdie on the final two holes on both Saturday and Sunday to win the Betfred British Masters on the DB World Tour; Brent Grant won the Simmons Bank Open for the Snedeker Foundation on the Korn Ferry Tour; Ana Peláez won her first LET title at the Comunidad de Madrid Ladies Open on the LET; Steve Flesch won the Mitsubishi Electric Classic on the Champions Tour; Manav Shah won the Quito Open on the PGA TOUR Latinoamérica; Yubin Jung won the Altron Vusi Ngubeni Tournament on the Sunshine Tour; A Yeon Cho won the Kyochon Honey Ladies Open on the KLPGA; Miyuu Yamashita won the World Ladies Championship Salonpas Cup on the JLPGA; and Bio Kim won the GS Caltex Maekyung Open on the KPGA. [Thanks, IC!]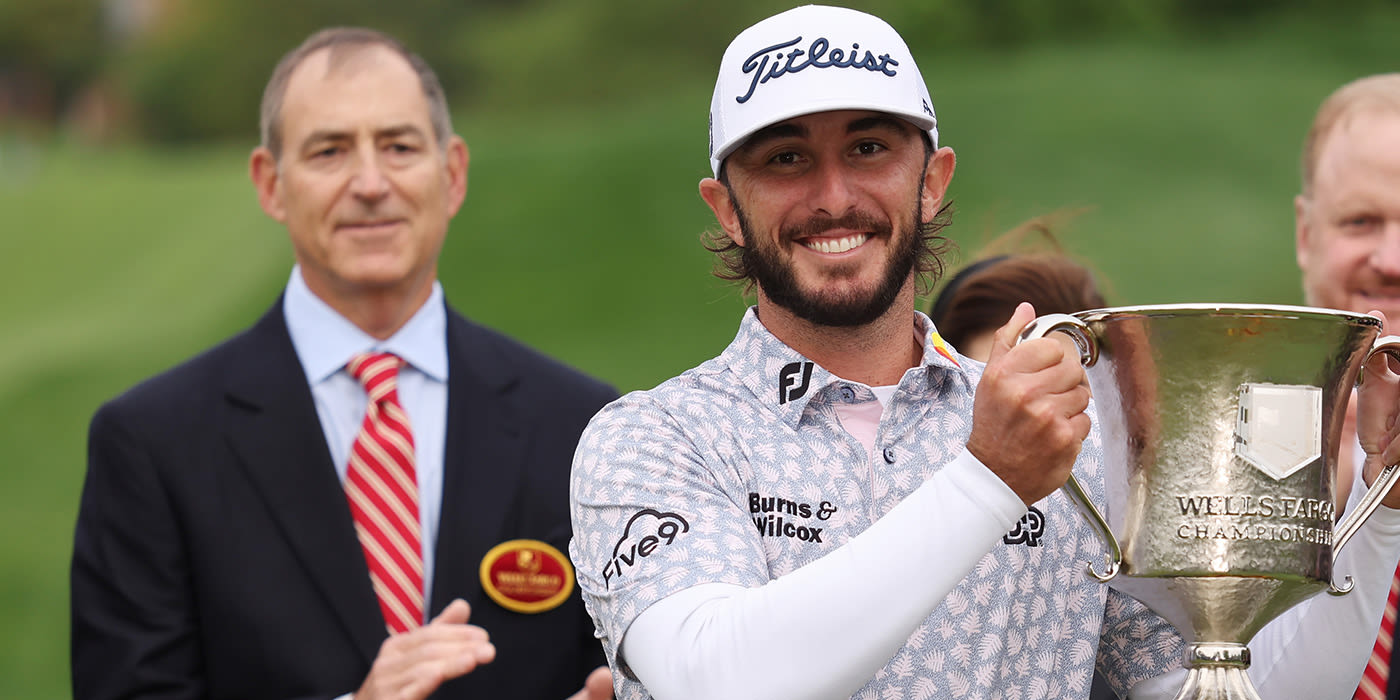 My Twofer Tuesday picks did a little better this week. I had Brian Harman (T9) and Matt Kuchar (T49). I'm a bit surprised that Kucher didn't do better in the conditions but Harman proved once again he's a mudder. Still no winner though.
Top10s: 15 for 58 (9 Top5, 5 Top10)
Winners: 1 for 28
Top20s: 26 for 58
I don't think anybody expected what we saw this weekend. The top players just couldn't seem to get it together on TPC Potomac's cold rainy track. In the end it came down to two players -- Matt Homa and Keegan Bradley, both players known for good bad weather play -- to fight it out.
And fight they did! Bradley began the day with a two-shot lead. Homa came out firing on the first hole with a birdie, Bradley doubled the second and we saw the first of FIVE two-shot swings in the round.
In the end Homa posted a 2-under 68 and Bradley a 2-over 72, giving Max Homa a two-shot victory and his second win of the season.
While both men leave with some positives -- despite losing, Bradley is finally starting to play well and he posted his best finish in his last seven events -- Max Homa almost certainly will head to the PGA Championship in two weeks with the most confidence.
Of course, picking up another Limerick Summary will do that for you.
Behind at the start of the day,
Max started to make his own way
To the front of the field.
It was like he just willed
Things to fall his way… and they obeyed!