Winner: Xander Schauffele
Around the wider world of golf: In Gee Chun got her third major at the KPMG Women's PGA Championship on the LPGA; Pádraig Harrington made his first Champions Tour win a major at the US Senior Open Championship; Pierceson Coody won the Live and Work in Maine Open on the Korn Ferry Tour; Haotong Li won the BMW International Open on the DP World Tour; Ssu-Chia Cheng won the Island Resort Championship on the Epson Tour; Michael Blair won the Elk Ridge Open on the MacKenzie Tour; Jesus Montenegro won the Bupa Tour Championship on the PGA TOUR Latinoamérica; Min Ji Park won the BC Card Hankyung Ladies Cup on the KLPGA; Min-gyu Kim won the Kolon Korea Open on the Asian Tour; Ayako Kimura won the Earth Mondahmin Cup on the JLPGA; and Yuki Inamori won the Japan Players Championship on the Japan Golf Tour. [Thanks, IC!]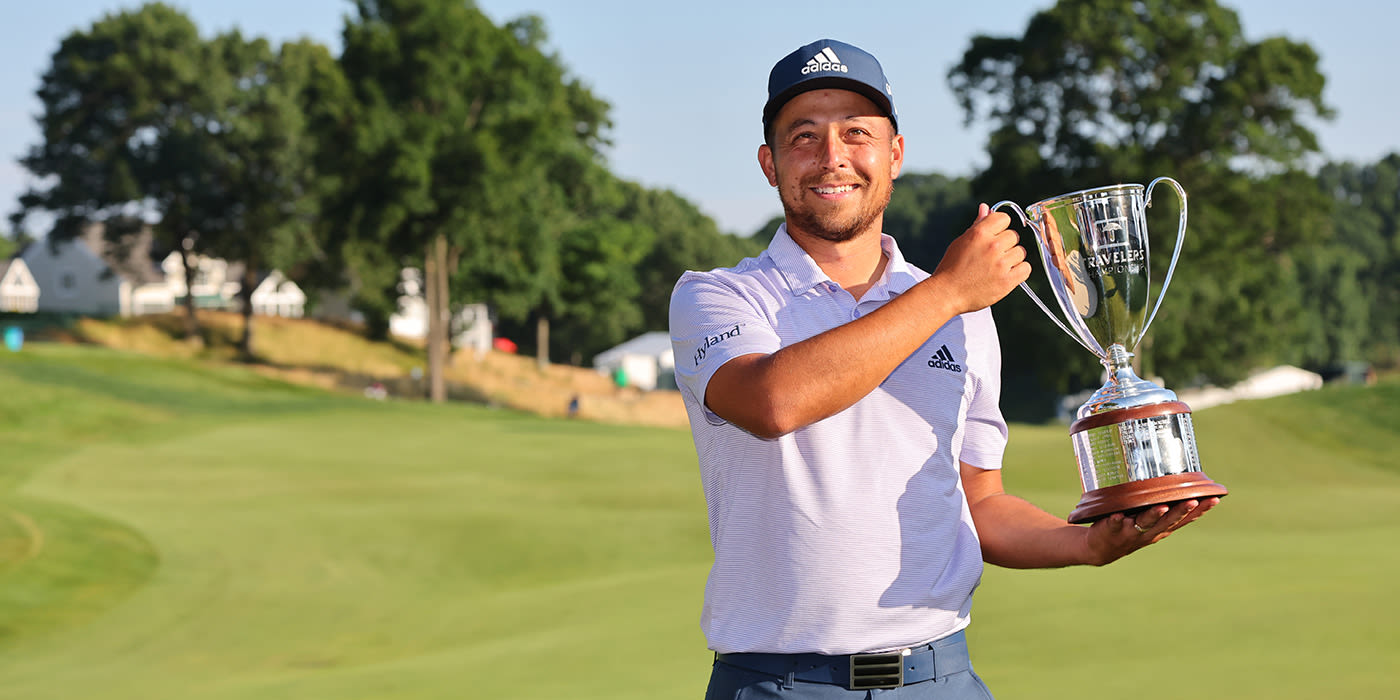 My Twofer Tuesday picks are back to their old tricks. I had Sam Burns (MC) and Aaron Wise (MC). Both went from decent play on a tough course the week before to poor play on a traditionally easy course this week. What more can I say? I'll try again this week.
Top10s: 19 for 72 (13 Top5, 6 Top10)
Winners: 3 for 35
Top20s: 30 for 72
I'll make this short and sweet. None of us doubt Xander Schauffele's ability to win. He is, after all, the reigning Olympic gold medalist.
But his record with 54-hole leads on the PGA Tour had been horrible. He was 0-for-4 closing out tournaments when he entered the final round with the lead.
That record is now 1-for-5... and he did it the hard way. He hit a sand wedge stiff on the final hole to win by two strokes after Sahith Theegala doubled the 18th to fall one behind Schauffele, who then birdied to finish in style.
It was Schauffele's sixth PGA Tour win, but it was his first solo win in over three years. He teamed up with Patrick Cantlay to take the Zurich Classic team event back in April.
Perhaps this will get him over that mental hump that we all seem to develop in whatever discipline we pursue after we can't get it done a few times. At any rate, it snags him his first solo Limerick Summary in three years... and that can't be a bad thing.
Theegala was leading by one
But a final 6 ended his run
And then Schauffele broke through
To win this one by two
When his final round lead got it done.
The photo came from this page at pgatour.com.