Winner: Joohyung "Tom" Kim
Around the wider world of golf: Ashleigh Buhai became the first female winner at Muirfield when she won the AIG Women's Open on the LPGA/LET (Rose Shang was the low am); Callum Shinkwin won the Cazoo Open on the DP World Tour; Andrew Kozan won the Utah Championship on the Korn Ferry Tour; Jerry Kelly won the Shaw Charity Classic on the Champions Tour; Xiaowen Yin won the French Lick Charity Classic on the Epson Tour; Ryan Gerard won the Quebec Open on the Mackenzie Tour; Gaganjeet Bhullar won the Bank Mandiri Indonesia Open on the Asian Tour; Austin Greaser won the 120th Western Amateur; Min Young Lee won the JLPGA's Hokkaido Meiji Cup; Mikumu Horikawa won the Japan Golf Tour's Japan PGA Championship; and Han Sol Ji won the KLPGA's Jeju Samdasu Masters. [Thanks, IC!]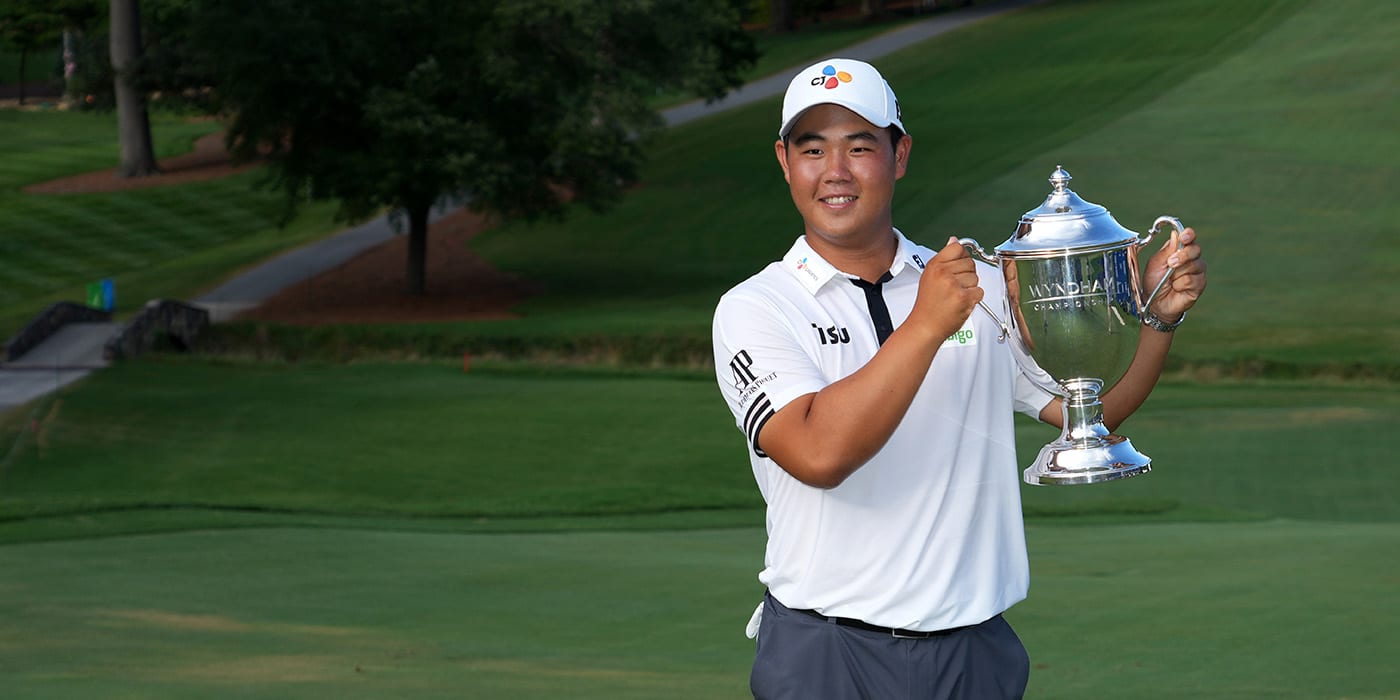 I'm disappointed in my Twofer Tuesday picks this week. I had Webb Simpson (WD) and Kevin Kisner (WD). They were two WDs in a group of nine. Unacceptable! If you sign up, then PLAY!
Top10s: 23 for 84 (15 Top5, 8 Top10)
Winners: 3 for 41
Top20s: 36 for 84
This was a week for some historic performances. Over at the AIG Women's Open, Ashleigh Buhai won her first-ever LPGA event, won her first-ever major, and became the first female victor at an Open held at historic Muirfield. Really cool stuff.
Tom Kim (you all heard the Thomas the Tank Engine story so I'll skip it here) became the first player born in the 2000s to win a PGA Tour event (he was born in 2002). He became the second youngest winner on Tour since World War II. And I believe he became the first player to win a PGA Tour event after starting that event with a quadruple-bogey. Was it a coincidence that he won by four strokes as well? Perhaps not.
Maybe it was fate.
Last week Tom secured his conditional Tour card at the Rocket Mortgage Classic... but the only way he could make the Playoffs was if he won this week. So he ripped the field apart with a 61 on Sunday, won the event, leapt to #34 in the Points List (virtually guaranteeing entry into two Playoff events) and, oh yes, got his FULL Tour card for the next two years.
Do you think Tom will mind if I nickname him "the Little Engine Who Could"? Somehow I don't think so. So let me add a Limerick Summary to his list of firsts this week. I doubt it will be his last.
Should we call this "The Playoffs' Last Shot"?
Many tried to get in, but could not…
Yet the Playoffs await
Young Tom Kim. Was it fate?
Many tried, but he could not be caught!